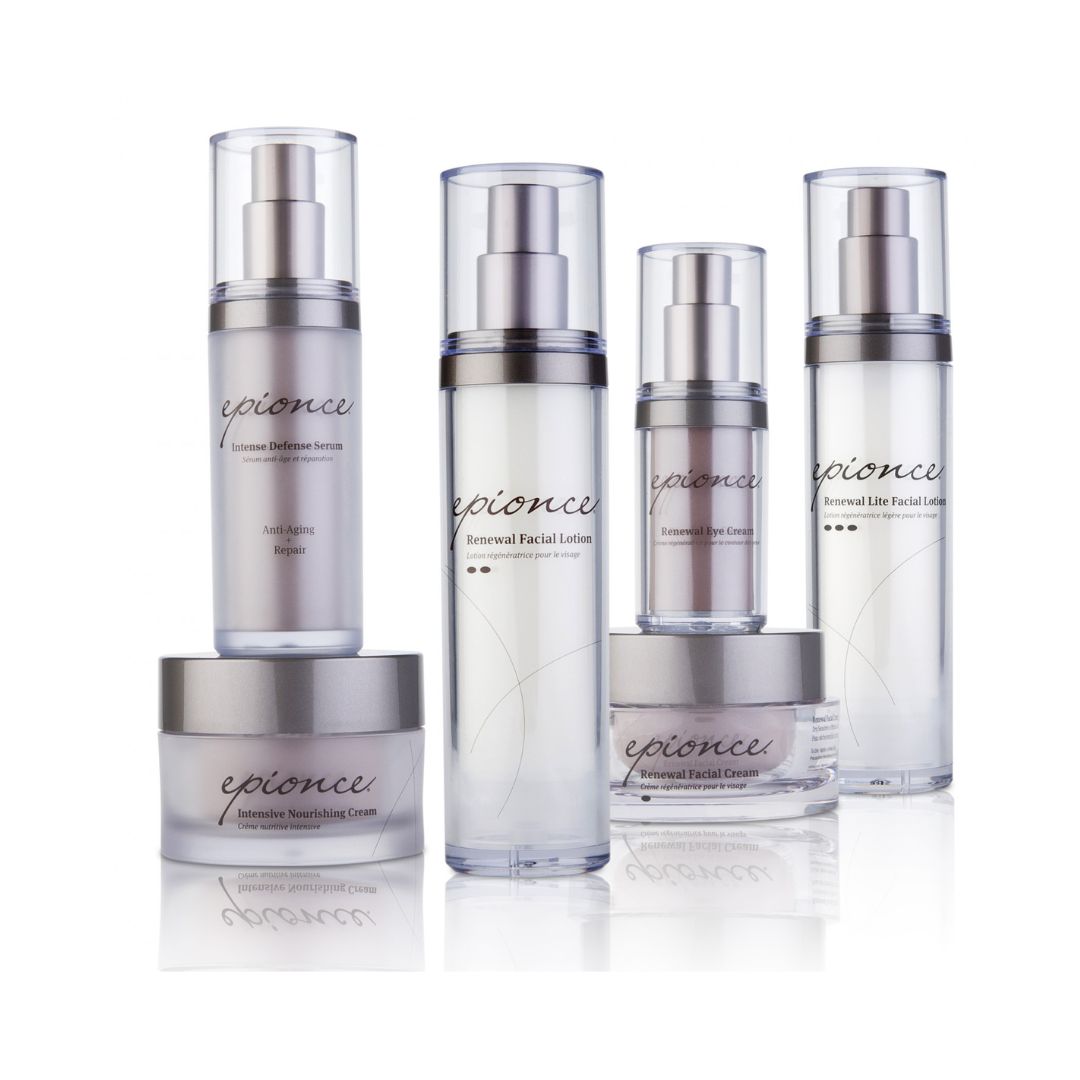 Epionce
We are pleased to offer the Epionce skin care line to help your skin look its best.  The Epionce product line was developed with the specific goal of helping your skin achieve maximum health and beauty while reversing many of the signs of aging.
The Epionce products have been developed and tested with rigorous standards insuring the claims made are backed by scientific research and testing, which cannot be said for many cosmeceutical/antiaging products that are sold today.
Epionce Renewal Facial Cream is the benchmark product in the Epionce line.  Renewal Facial Cream is an excellent moisturizer that also provides anti-oxidant and anti-inflammatory effects to help reduce the signs of aging and help your skin reach maximum health.  In addition to Renewal Facial Cream, the Epionce line offers a broad range of products including sunscreens, pigment fading agents, eye cream,  acne treatments, medically based moisturizers, and anti-aging skin care systems.
We offer free consultations and sampling of Epionce products to help you find the best skin health program for you.
Purchase Epionce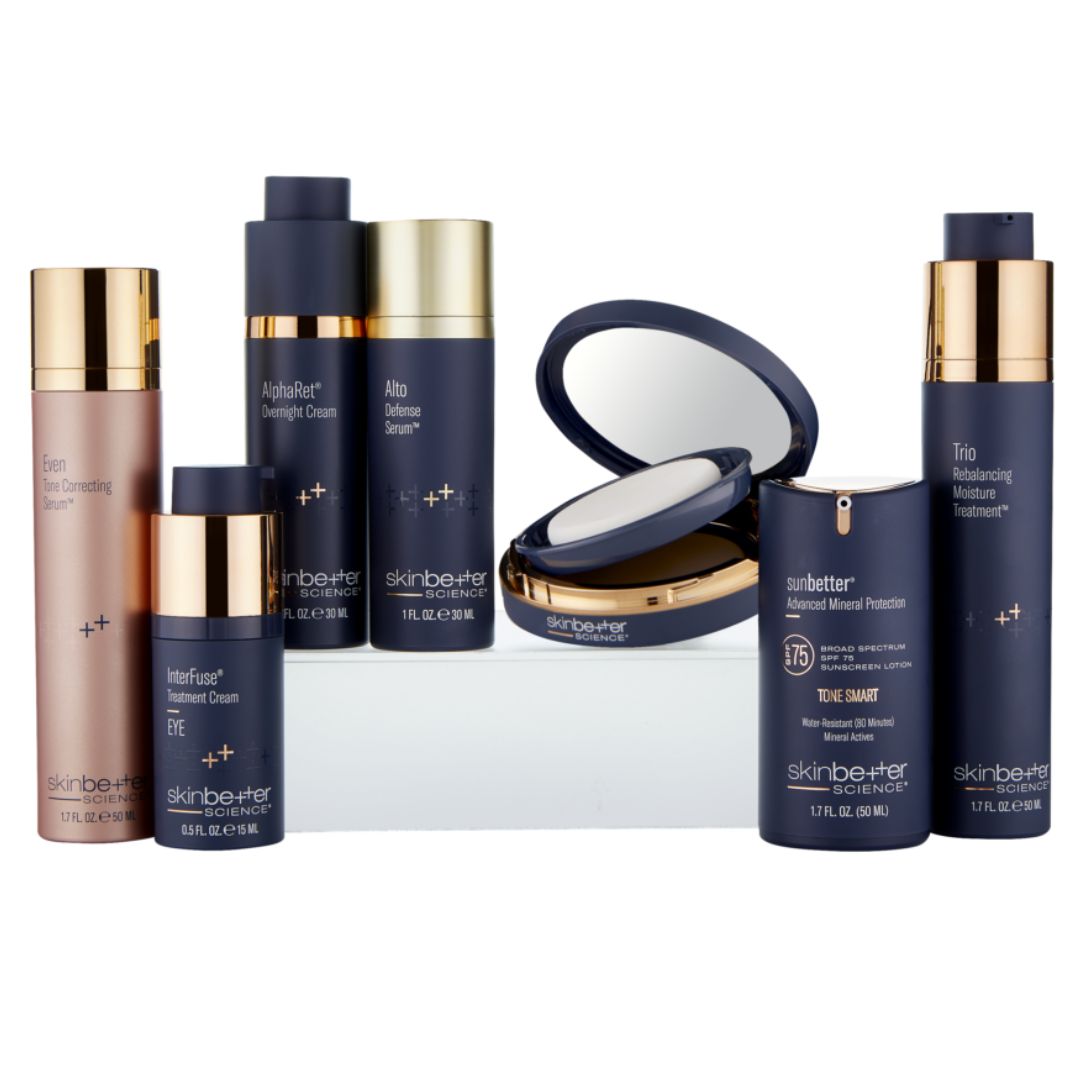 Skinbetter Science
We are pleased to offer the award-winning SkinBetter Science line. In 2016 SkinBetter Science set out to create a new paradigm in skin care, not only for patients, but for the physicians, nurses, aestheticians, and surgeons who help patients achieve beautiful skin. Their award-winning products are backed by a diverse team with decades of experience in clinical research and development (in powerhouse products like Restylane and Dysport) and furthered by a continued commitment to the study of skin care science and the introduction of new technologies. To us, accomplished science represents the deep knowledge and rigorous study of skin and skin care chemistry. We believe remarkable results can be achieved simply, through purposeful product innovation, which is why we leverage advanced chemistry to help skincare products do more.
When you're happy with your skin, you feel more beautiful and confident. These satisfying results are best achieved by working closely with a SkinBetter Science authorized Esthetician who can help you find the right treatment for your skin. When the right product comes along, you'll never go back to your old favorites.
Our patients appreciate that to see results, our products don't require a tedious multi-step process. In addition to being scientifically advanced, SkinBetter offers an uncomplicated approach to skin care. One product can deliver remarkable results; two to three SkinBetter products can change how you feel about your skin. Either way, SkinBetter products ensure that real results are possible in your real life.
Purchase SkinBetter
Elta MD
Elta MD Skin Care embraces a complete spectrum of products designed for every skin type, all paraben-free and hypoallergenic. Protecting skin from sun exposure and damage is a critical part of a daily skin care regimen. The Elta MD sun care line includes oil-free formulas, daily moisturizing sunscreens, chemical-free sunscreens, and all-over body sunscreens to protect every patient from sun damage and the risk of skin cancer. Elta MD products are fragrance free and unlike most sunscreens, don't leave a white film on the skin, regardless of skin color.
Purchase Elta MD